Bulk Popcorn Kernel Supplier
Shumway Farms is an 8th-generation family farm that's called Tekonsha, MI home since 1856. We've been growing popcorn for over 20 years and today, customers recognize our popcorn as the best in the business! We sell to customers looking to buy popcorn kernels in bulk across Michigan, the United States and around the world. We have both; bulk quantities and convenient shipping options available.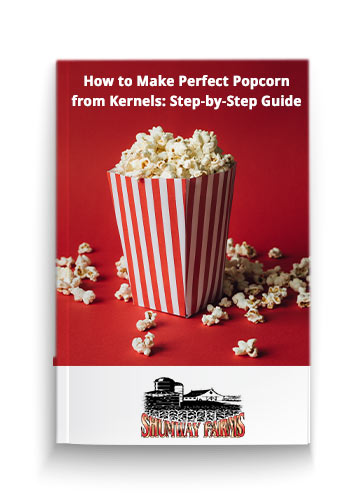 Not sure how to make popcorn on your stove? Use our step-by-step guide on how to make the perfect popcorn from kernels!
Get directions and expert tips on how to make make popcorn on your stove
We've Perfected the Art of Growing Popcorn
Nobody knows the popcorn business quite like Shumway Farms. Owner Ed Shumway has been in the popcorn market for over 20 years. Mentored by Jack Wagner of the former Magic Pop in Colon, MI, Ed decided to incorporate his family farm in 2000 to carry on the tradition. Since then, Shumway Farms Theater Style Popcorn, LLC has produced wholesale popcorn for customers throughout Michigan, across the U.S. and around the world!
Today, we're a respected bulk popcorn kernel supplier that processes approximately 2,000 acres of popcorn crop, grown on our farm and by neighboring farmers on our team. We bring our customers three distinct unpopped popcorn varieties, each grown with care to promote the best in popability, flavor and quality:
Our customers consist primarily of Michigan companies and some out-of-state businesses. Our popcorn is also shipped to many countries all over the world; popcorn consumption varies by country, but there's no denying that it's a worldwide treat. We carry a Shumway Farms label however, our products are also privately or generically labeled to the public. Our mission is simple: keep supplying the best popcorn to the people who want it! If you've ever wanted to learn how to make popcorn with kernels, we're here to help.
We're extremely proud to be an 8th generation family-owned and -operated farm!

Our history with popcorn goes back to 1991, when we first started growing it.

Each year, we produce more than 2,000 acres of popcorn across our network of growers.

We serve Michigan companies and can export our popcorn to countries across the globe!

Our popcorn ranks highly in popability and grades even higher in kernel quality!
A History of Popcorn Farming Excellence in Michigan
Our family first came to Tekonsha to farm the land in 1856. Ed Shumway first began growing popcorn in 1991 for another processor as a cash crop, while engaged in dairy farming. Shumway Farms Theater Style Popcorn, LLC evolved from this early venture in May of 2000. Today, we produce and process acres of popcorn at our facility and in partnership with area and out-of-state farmers on our team of growers.
Many of the farms that grow our popcorn are multi-generational family farms. As an 8th generation family-owned and -operated farm in the popcorn industry, we place high values on quality and integrity and constantly strive to achieve these goals. Our ambition is to exceed your expectations!
Thanks For Popping With Us!
Our wholesale popcorn suppliers are dedicated to bringing customers the best popcorn varieties, cultivated here in Tekonsha. We appreciate every customer who recognizes our dedication, and who chooses us for superior popcorn. Not sure where to buy popcorn kernels in bulk? We've got you covered! How long does unpopped popcorn last? Does unpopped popcorn go bad at all? Good questions, and ones we can help you with. (Hint: they last for a long, long time.)
---
Shumway Farms Theater Style Popcorn, LLC operates and maintains 3rd Party GFSI certification that is audited annually. This certification ensures that our facility is compliant with the latest Food Safety Management Systems, Good Manufacturing Practices, and Hazard Analysis Critical Control Point system requirements.
As a farmer, packer and shipper we consider food safety fundamental to our ongoing business. Our goal is to provide high-quality, safe food every time. If you're interested in learning how to start a popcorn business from home, we've got everything you need to get going, so contact us today.
Our wholesale popcorn distributors deliver to the following areas:
BattleCreek, MI
Coldwater, MI
Detriot, MI
Grand Rapids, MI
Indianapolis, IN
Jackson, MI
Kalamazoo, MI
Lansing, MI
Marshall, MI
Tekonsha, MI
Traverse City, MI
and worldwide shipping available.