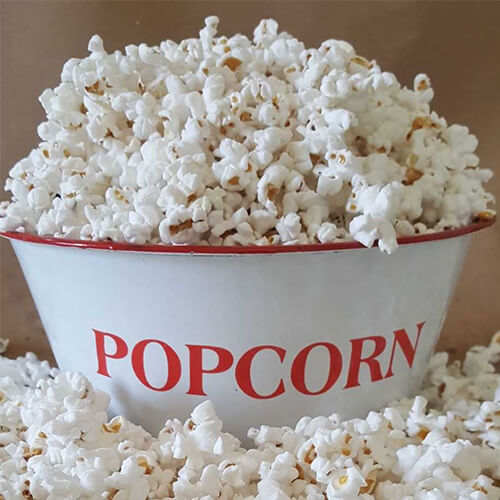 Bulk Popcorn Kernels
When it comes to popcorn, quality matters. You need kernels that will pop to perfection, into delicious popcorn that people will enjoy eating. Whether it's at the movies or walking the fairgrounds, Shumway Farms Theater Style Popcorn kernels will make sure you're giving your customers popcorn that's guaranteed to please!
We're committed to producing the best quality of bulk popcorn kernels wholesale that meets or exceeds our customer's expectations. We process and ship from our farm in Tekonsha, MI, 25 miles north of the Michigan/Indiana border along I-69. We'll gladly ship to customers across the country and even around the world!
Popcorn Kernels We Offer
Are you looking for a delicious snack? If so, you might want to consider popcorn. Popcorn is a classic, consistent snack that provides a wide variety of tastes. In addition to the numerous toppings, you can add to your popcorn, there are different shapes, textures, and shapes you may enjoy as well. Here at Shumway Farms, we are proud to be one of the top producers of popcorn in the world. Throughout the years, we have expanded the products and services we provide. That way, we can help you tailor your popcorn experience to meet your specific requirements. Take a look at some types of popcorn kernels we offer below!
White Popcorn Kernels
One unique option you may not have heard about is white popcorn. Many people think about movie theater popcorn when they hear about this snack; however, white popcorn is a bit different. White popcorn kernels are a bit smaller than traditional popcorn kernels. In addition, white popcorn kernels are also a bit sweeter. Instead of the salty, savory flavor many people are used to when it comes to popcorn, white popcorn has a delicious, sweet flavor that simply cannot be mimicked by any microwave bag.
In addition, you also have a lot of options when you are trying to pop white popcorn. For example, if you would like to use a traditional stovetop method, you can certainly do that. If you would like to use an air popper to pop white popcorn, creating a low-fat snack, you can certainly do that as well. Even though you can use oil to pop white popcorn, this is not required. When white popcorn kernels are exposed to heat, they immediately open up into fluffy blooms that have a satisfying crunch in the mouth.
Finally, white popcorn also contains a lot of fiber. This is just another reason why this is a healthier option for those who are looking for popcorn. If you are looking for something a bit different, why not give our white popcorn a try? We are confident that once you try it, you will fall in love with it!
---
Mushroom-Style Popcorn Kernels
Of course, we also offer other types of popcorn as well. At Shumway Farms, one of our most popular options is our mushroom-style popcorn. This type of popcorn gets its name from its unique shape. Instead of popping open with a bunch of wings, mushroom popcorn kernels explode into round balls when they are exposed to heat. This provides mushroom-style popcorn with a number of unique qualities.
The biggest difference between mushroom-style popcorn and traditional popcorn is that it is significantly stronger. Because of the round shape, it can stand up to heavier weights, including specific types of toppings. For example, if you are someone who likes to add caramel to your popcorn, then mushroom-style popcorn is probably the best choice for you. Or, if you are someone who would like to add melted cheese, you may also want to reach for mushroom-style popcorn. Because of the round shape, mushroom popcorn is not going to collapse when it is exposed to heavier weights.
In addition, mushroom popcorn will also last longer after it has been exposed to the air. Instead of going stale almost immediately, mushroom popcorn will still retain its fresh, satisfying crunch as long as it is cared for appropriately. That makes mushroom-style popcorn a great option to pop in bulk. This is another reason why our mushroom-style popcorn has become so popular.
Finally, mushroom popcorn kernels are a bit larger. With 40 to 45 kernels per 10 grams, this is one of the larger popcorn options we offer. Similar to our other products, we also offer mushroom popcorn in bulk. If you are looking for popcorn that can handle a wide variety of toppings, then you may want to go with our mushroom-style popcorn. You can make every handful taste different thanks to the toppings you can add!
---
Butterfly-Style Popcorn Kernels
Finally, we continue to offer our traditional, delicious, butterfly popcorn, which has always been the focus of our business. Butterfly popcorn gets its name from the unique shape popcorn takes when it is exposed to heat. When our butterfly popcorn kernels explode, they have delicate, little wings that help them fly through the air. If you have ever seen movie theater popcorn pop behind the catch register, you have seen butterfly popcorn in action. It has a delicious, consistent, reliable take that continues to make popcorn a popular snack even to this day.
Even though there are lots of ways you can eat your butterfly popcorn, butterfly popcorn always tastes best with some melted butter and a bit of salt. That way, you can have the perfect flavor combination create a symphony in your mouth. Of course, you can add other toppings to our butterfly popcorn as well. For example, you may want to add cayenne pepper if you are looking for a bit of spice. Or, you can add some garlic powder if you are looking for a slightly different flavor.
We encourage everyone to eat butterfly popcorn as soon as it is popped. That is because butterfly popcorn can go bad quickly if it is exposed to the air. Fortunately, there is a way you can prevent our butterfly popcorn from going stale. If you decide to purchase our butterfly popcorn in bulk, you will receive pounds of kernels that will stay fresh until you decide to pop them. If you are looking for a delicious snack, why not give our butterfly popcorn a try? We know that you will love our butterfly popcorn and its flavor!
Learn About Butterfly-Style Popcorn Kernels
Packaging, Shipping and Exporting
We're proud to maintain partnerships with customers throughout Michigan, as well as across the country and around the world. We offer convenient domestic and international shipping in various quantities, with affordable rates and fast processing times, with full truckload, LCL, FCL and LTL shipping available.
We can ship your order in 35-pound bags, 50-pound bags, 2000-pound totes or in bulk. Our 50-pound bags are packaged either in a generic bag with the Campfire brand logo or our Shumway Farms name. We work with Manchester Company, Inc for any special customized bags, for when your business requires a private label.
Experience Superior Popcorn
Shumway Farms Theater Style Popcorn has been committed to supplying our customers with the highest-quality popcorn for the past 30 years. We welcome your order and we promise you'll get popcorn that people will love to eat! Contact us today at 517-767-3569 to discuss your order or to learn more about what makes our popcorn the best of the best.