Bulk Popcorn Kernels Wholesale in Tekonsha, MI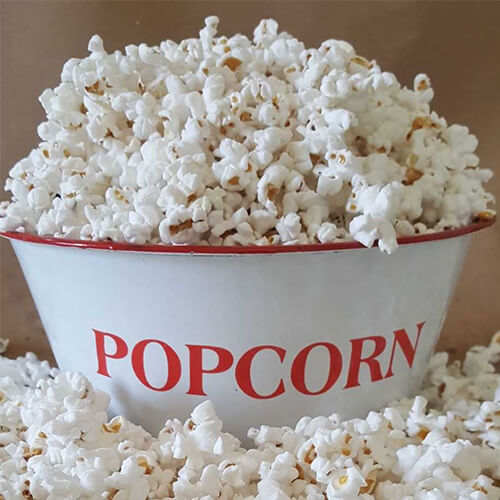 When it comes to popcorn, quality matters. You need kernels that will pop to perfection, into delicious popcorn that people will enjoy eating. Whether it's at the movies or walking the fairgrounds, Shumway Farms Theater Style Popcorn, LLC will make sure you're giving your customers popcorn that's guaranteed to please!
We're committed to producing the best quality of bulk popcorn kernels wholesale that meets or exceeds our customer's expectations. We process and ship from our farm in Tekonsha, MI, 25 miles north of the Michigan/Indiana border along I-69. We'll gladly ship to customers in Michigan, across the country and even around the world!
Popcorn Products We Offer
The quality of our popcorn is proven not only by the demand from our customers, but by scientific metrics! The expansion ratio (popability) of popcorn is measured on a Cretors Official Metric Weight and Volume (MWVT) Tester. We offer three types of popcorn:
Butterfly-style popcorn is the main focus of our business. The weight of these kernels ranges between 55 and 65 kernels per 10 grams. Our butterfly popcorn kernels fall into two classifications: 40-42 MWVT and 43-46 MWVT.
White popcorn kernels offer smaller kernels that range around 75 kernels per 10 grams. White popcorn kernels also offer superior popability and provides an expansion ratio of 46-48 MWVT, meaning 99%of kernels will pop.
Mushroom-style popcorn is used primarily in production of caramel popcorn. The size of these large mushroom popcorn kernels ranges from 40-45 kernels per 10 grams. The expansion ratio is less on this type of popcorn, since it remains a durable round ball to facilitate processing and reduced crumbling.
Packaging, Shipping and Exporting
We're proud to maintain partnerships with customers throughout Michigan, as well as across the country and around the world. We offer convenient domestic and international shipping in various quantities, with affordable rates and fast processing times, with full truckload, LCL, FCL and LTL shipping available.
We can ship your order in 35-pound bags, 50-pound bags, 2000-pound totes or in bulk. Our 50-pound bags are packaged either in a generic bag with the Campfire brand logo or our Shumway Farms name. We work with Manchester Company, Inc for any special customized bags, for when your business requires a private label.
Experience Superior Popcorn
Shumway Farms Theater Style Popcorn, LLC has been committed to supplying our customers with the highest-quality popcorn for the past 30 years. We welcome your order and we promise you'll get popcorn that people will love to eat! Contact us today at 517-767-3569 to discuss your order or to learn more about what makes our popcorn the best of the best.